Calendar etiquette is a topic that is so close to my heart.  It helps to instil good calendar "manners" as such as this way your GCal tools become much more useful and efficient.  If everyone cooperated and respected each other's calendars (and thus respect each other's time), then these tools will become the most powerful tools you have ever used.
1. Respond to Invitations.
Insist that everyone confirms their attendance by accepting the calendar invite I GCal. That is my standard line for all meetings in GCal.  You can add notes to explain exactly what is expected of you. It is incredibly helpful to know exactly who will be attending and who won't.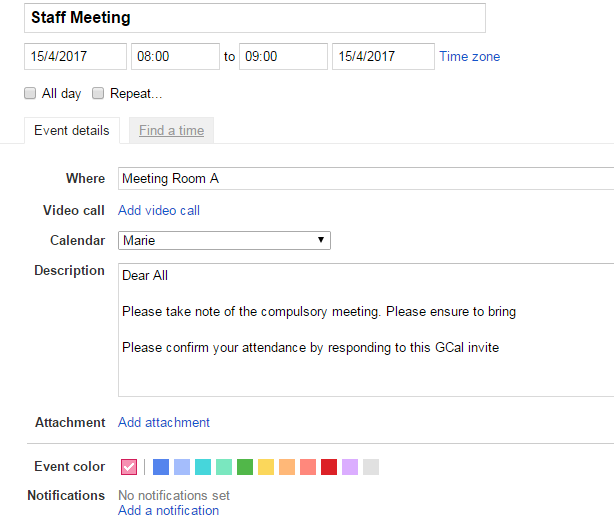 You should also be courteous yourself and reply to GCal invites.  If you decline an invite, it would be a good idea to add a note to say why. For example, you may already have a meeting at that time.
2. Include the location.
When scheduling a meeting or an event make sure you add a location.  It helps other secretaries / PA's or bosses who have access to the invitee's calendar to know where the meeting is held.  I have once scheduled a meeting for my boss straight after a meeting in GCal that he had added in, not knowing it was on the other side of town.
3. Titles
Try to be descriptive with your titles.  Adding "Meeting" into your calendar means nothing.  Add a little info so that everyone who has access to the calendar will have an idea of what the meeting is about.  For example, "Meet with Bob to discuss Project X details" is much more effective than simply saying "Meet with Bob.  At least Bob will know that it may be helpful to bring additional info on Project X to the meeting.
4. Description
Feel free to use the description area for additional notes.  You can even attach the agenda or additional notes etc to meetings in the GCal invite (super useful). This really allows people to prepare well in advance for their meeting or event. 
It is up to you to start with good calendar etiquette. Set the standard and see how quickly everyone else follows. And by following the advice set out above, I do believe you will become an efficient organiser in no time!
Written for OPSA by Marié Mieny
Marié Mieny is an administrator within the School of IT at Monash South Africa (MSA).  She has been at MSA for 13 years of which 7 years have been in the School of IT
Marié has a reputation for revolutionising the mundane tasks she is given by using technology to make her very efficient and effective in her job. As a result her school is one of the top schools at MSA with a reputation of being highly organised and effective.
Marié has two honours degrees – one in Criminology and one in Psychology.  She plans on doing her Masters in the near future