Fill in the easy form below and INSTANTLY get more information.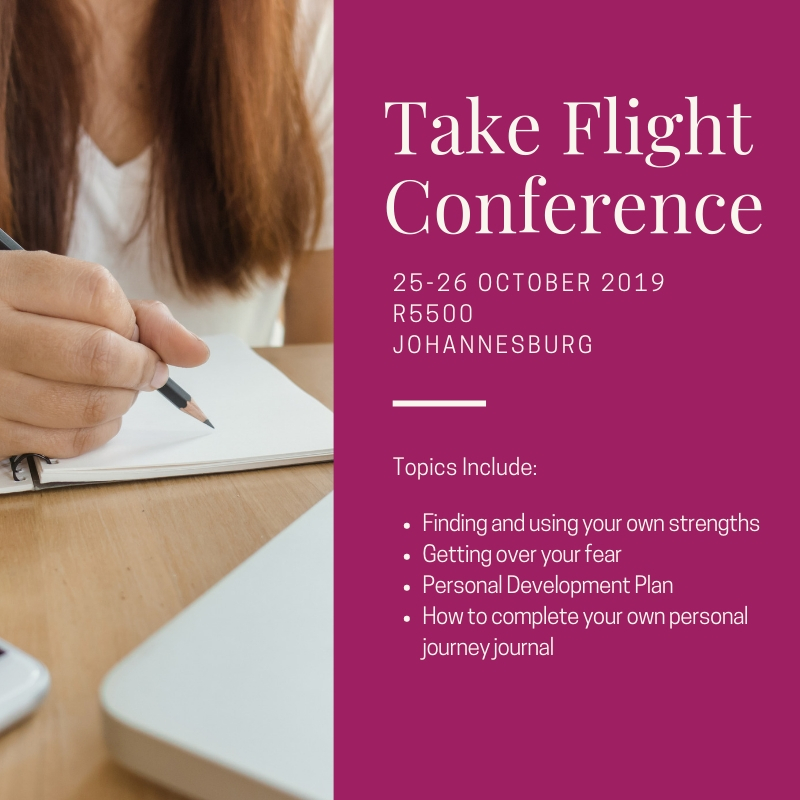 This year, we at OPSA have designed the Take Flight Conferences in such a way, that at the end of each conference, you will be able to face any challenge you are facing at the moment in the office. 
To start us off in April, we will be holding a 3-day conference with 6 workshops, to get you ready to start you journey.  The focus for the first Take Flight Conference 2019 will be focusing on Productivity, addressing subjects such as: Attention and Workflow Management, Time Management, Project Management as well as MS Word, Outlook and Excel workshops
From there we will be helping you build relationships that will be beneficial for you, tackling topics that so many Administrative Assistants seem to have a problem with today, including: Emotional Intelligence, Communication Skills, Assertiveness, Dealing with Difficult people and Networking for success
In the second half of the year, we will be making sure that you will get the full experience of being a Professional Administrative Assistant.  This will help you on your plan for 2020 and going forward, this part of the journey will be taking you through: Finding and using your own strengths, Getting over your fear, Personal Development Plan and how to Complete your own personal journey Journal
To end off our Take Flight Journey this year, we will be talking about the After Math.  We all know that feeling of when you come back from a good trip, there is a bit of a struggle to get back into the swing of things in the office – to help you with this, we will be talking about; How to stay motivated and positive when things go wrong, Overcoming Procrastination, Building your Brand and Making the right choice for YOU!
Does this sound like a journey you are interested in taking this year?
What do you get if you attend training with OPSA?
Membership with the professional association (SAQA ID 1027) in South Africa

Certificate of attendance to show your hard work

Networking opportunities

Affordable training close to home

Personal and professional development

Career support and direction

Enhancing leadership skills

Professional recognition
UPCOMING TAKE FLIGHT CONFERENCES