Take a Girl Ch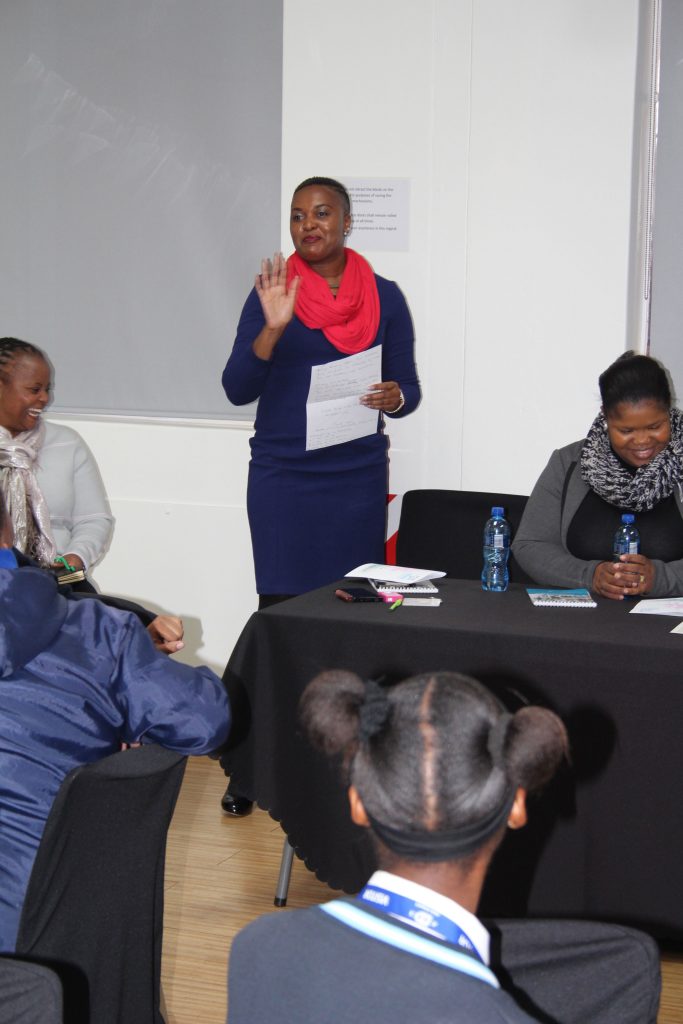 ild to Work Day is a National Yearly event aimed at exposing high school girls leaners in grades 10 – 12 to a variety of career options. First introduced to the South African business community on May 8 2003, the campaign celebrated its 15th anniversary on May 25, 2017 with the theme "Dream, Believe and Achieve".
Hensoldt Optronics traditionally invites a number of girls to enjoy a hands-on experience of academic life on this day. On the 25th of May 2017, Hensoldt Optronics hosted 38 grade 10 – 12 girl learners from Nellmapius Secondary School in Mamelodi as part of the Cell-C sponsored "Take a girl Child to Work Day" initiative.
The programme for the day included a presentation of the company's overview, a round table discussion with professionals/mentors in the company. The girls were informed of career options while spending a day in the work environment, experiencing all its facets. The girls were also taken on a facility tour. They had an opportunity to ask questions on different professions, the obstacles and how to overcome them. How to handle conflict in the business environment, why girls quit engineering, what motivates us as professionals and how to handle peer pressure were some of the questions posed by the leaners.
The professionals in the company included, HR, Finance, Quality, Support, Engineering and office support. Some of the encouraging words used to motivate the girls in all aspects of their lives:
Schooling is the journey that's going to determine where you going in life

"Choices in life" (self-betrayal, Sense, Decision and Seen)

Girls warned to stay away from blessers

Girls to believe in themselves

Learning to say "No"

Always surround yourself with people who will add value to your life

Quality of life and finding a happy balance between school and friends
Last but not list, the girls were awesome!!!
"Education is the most powerful weapon which you can use to change the world" Nelson Mandela
Written for OPSA by Louisa (Lulu) Kambile
Lulu works as the Department Administrator at Hensoldt Optronics (previously known as Airbus DS Optronics), with more than ten years in the admin profession. Bubbly, energetic, enthusiastic person who enjoy challenges and achieving professional and personal goals. She has built her career in a variety of roles and industries, mostly in big companies where she was not just the admin but also gatekeeper, events planner and admin guru. She is not only used to wearing many hats, she sincerely enjoys it!
Her career highlights include:
Being part of the "Bring a Girl Child to Work Day" at Hensoldt Optronics

Semi-Finalist – Office Professional of the Year 2016

Speaker: Executive PA Seminar – Knowledge Resources

Executive Assistant to MD – South African Post Office

Winner: Communication Award, Office Professional of the Year 2014

Runner-up: Upcoming Professional of the Year 2014
An Office Professional of South Africa Ambassador. Her future plan is becoming an Administrative Manager and a professional speaker.
"Don't judge each day by the harvest you reap but by the seeds that you plant." ― Robert Louis Stevenson