Here we are – the last week of August and the last installment of the Written Communications series.  Next week is a new season and a new theme – can you guess what it is?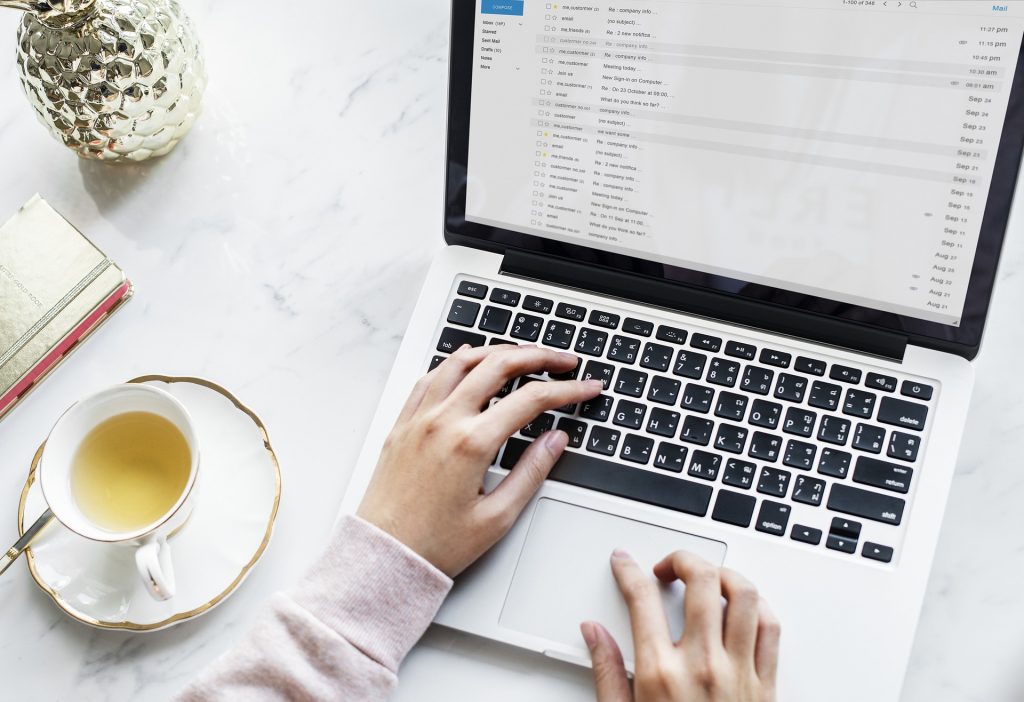 This week we will be looking into the planning and writing guidelines for emails, memorandums, letter and reports.  It is quite a bit to take in, so schedule some quiet time in your day, grab a cup of your favourite drink and get ready to learn something new.
(a)   EMail
Due to its speed and ease of use, email is a form of communication for organisations and individuals today.  Workers spend hours at their place of employment sending and receiving emails.  People may also spend a considerable amount of time at home sending emails to friends and family.
Since email is an important communication tool, you must adhere to certain guidelines, etiquette and ethics as you use it.
Here are some guidelines as well as the guidelines for etiquette and ethics apply to email specifically.
Be appropriately formal when writing email. The rule of thumb is to be almost as formal as you are in standard memorandums.
Avoid using emoticons
Think through the purpose of your email before you begin writing.
Edit and proofread carefully! Check your spelling.
Use complete sentences.
Capitalise and punctuate properly.
Assume that any message you send is permanent.
Do not double space your entire message.
Be wary of humour or sarcasm.
Avoiding using all uppercase or all lowercase letters.
Netiquette (etiquette practices for the electronic environment)
Do not use different types of fonts, colours, clip art and other graphics in email.
Do not key the message in all uppercase letters.
Avoid sending messages when you are angry.
Answer emails promptly.
Do not send large attachments unless you know the person can receive them.
Ethics
Ethical behaviour is important.  Ethics in regards to email means that you do not misuse the organisations email system.
Do not send personal email from your office computer
Do not use email to berate or reprimand any employee. Do not use email to terminate someone's employment.
Do not use email to send information that might involve legal action.
Do not respond to unsolicited email.
Do not forward junk mail or chain letters to a mailing list.
Do not forward an email unless you know the message is true.
(b)   Memorandums
The characteristics of effective correspondence holds true for memorandums.  Memorandums must be complete, clear, concise, accurate, prompt and positive.  In style, they are slightly more formal than email, but less formal than letters.  A memorandum form contains the following headings:
The word memorandum or an organisational name or logo may be included.  A copy notation, indicated by the letter 'c' may follow the body of the memorandum.
Guidelines
Use the first name (or initials) and the last name of the individual to whom you are sending the memo
Use the job title of the individual if company policy dictates doing so.
If you are sending a memorandum to more than one individual, list the names in alphabetical order or by hierarchical order within the company
List 'c' recipients alphabetically or hierarchically
If you are addressing a memo to ten or more people, use a generic classification, such as Strategic Planning Team
If the memorandum is more than one page, key the additional pages on plain paper. Include an appropriate header on additional pages.
(c)    Letters
Letters represent the company to the public.  A well written letter can win friends and customers.  A poorly written letter can lose customers and make enemies of prospective customers.
Determine the basic purpose
Before you begin to write a letter, you must determine the basic purpose for writing.  Letters can fall into six types:
Requesting information or seeking routing action
Providing information
Acknowledging information
Conveying negative information
Demanding action
Persuading
The first three types of letters (requesting information, providing information and acknowledging information) are letters in which the reader's reaction to the message will be favourable or neutral.  The next two types of letters (conveying negative information and demanding action) are letters in which the reader's reaction may be unfavourable.  Use the direct approach in the first three types of letters and the indirect approach in the others.
Edit, proofread and format 
Once you have written a letter, you are responsible for editing and proofreading the document.  The grammar and spelling software on your computer can help you do the job.  However, the software will not catch all the errors and certain errors noted by the software may not necessarily be errors!  You must have a good command of grammar and proofread carefully.  You might even ask someone else to proofread the document.
Some proofreading tips:
Proofread your document on the screen before you print it. Scroll to the beginning of the document and use the top of the screen as a guide for your eyes in reading each line.
Proofread a document in three steps (1) general appearance and format; (2) spelling and keyboard errors; (3) punctuation, word usage and content
Read from right to left for spelling and keyboard errors
Use a spell checker
If possible, do not proofread a document right after keying it. Let the document sit while you perform another task.
Use the thesaurus if you are not certain a word is appropriate.
(d)   Reports
The administrative professional's role in preparing reports varies.  You may have the responsibility of keying the report, producing the final copies and distributing the report to the appropriate individuals or you may assist with the creation of visuals for the report (charts, graphs), do research and draft some or all portions of the report.
Planning steps
Whether you are writing a basic report or a business plan, the planning steps should include the following:
Determine the purpose of the report
Analyse the audience who will receive the report
Prepare a summary of what should be included in the report
Gather information for the report
Prepare an outline of the report
Draft the report
Prepare any necessary graphics, charts and tables
Read and edit the report
Prepare the executive summary
Print and distribute the report
Most reports involve some type of research.  This research may be primary research (collecting data through surveys, observations or experiments).  The research may also be secondary research (data or material that other people have discovered and reported via the Internet, books, periodicals and various other publications.  In addition, the research may be a combination of both primary and secondary.
This brings us to the end of another month, and the end of another theme – next month we will be taking a deeper look into the work the office professional does to celebrate Secretary's Day here in South Africa.  Don't forget you can sign up for free membership and get these great articles straight to your inbox as well as other important information regarding the world of an office professional